Founded in 2014 by Ashley & Rodney Johnson. We started off via social media asking for dress donations. After a KSAT 12 interview in 2015, our project grew! To date, we've collected thousands of dresses, shoes, and accessories. Teens are notified by word of mouth and social media to apply online during prom season. We would then meet at various locations for them to pick their attire. All items are free of charge to them and their families. In 2016, we obtained 501c3 charitable status. As our efforts grow, we have now expanded to assist teen boys along with be available for homecomings, military balls, graduations, banquets, or any school formal event. Some accomplishments have been receiving grants from Mission Trail Rotary Club, Randolph Spouses Club, and to be featured on every local news station in 2018.
None of our efforts could have been done without our board members, sponsors, volunteers, and San Antonio community.
Ashley Johnson-Founder/President

Rodney Johnson-Co-founder/Vice President

Jennifer Herrera- Treasurer

Paula Hudspeth- Secretary

Crystal Rivas-Consultant

Rudy Hernandez-External relations
Provide formal attire to high school teens for their prom or school formal event at no charge to them and their families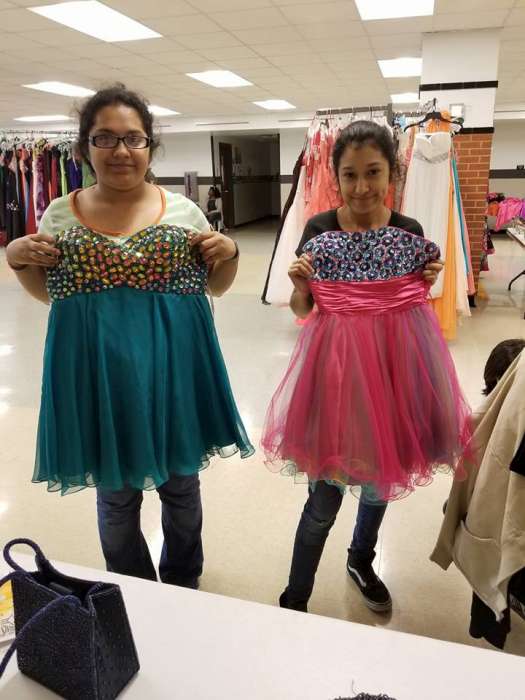 Sponsors
The following people and their businesses have sponsored and/or donated their services to our organization or dress recipients over the past 5 years! Thank you all!
LEAP Media Interactive Group

Woodlawn Pointe

Big Brothers Big Sisters

San Antonio ISD

Texans CAN Academy

Gigi's Nails by Genevieve

Salon Hairaddik

Hair by Holly

Creeping Beauty Inc.

The Springfield Group

BRICK at Blue Star

Pretty Petals Floral Boutique

Crystal Clear Photography

Boo Bear Bakes

DJ Automatic

The Aztec Theater

El Tropicana Hotel

Twin Liquors

Guillermo's

Arts San Antonio
Sidditty Kitty

Charming Charlie-Stone Oak

H-E-B

Estilo's Hair & Nail Salon

Shangri-la Dresses

Hair by Monica

Jeff at Truesdell Salon

Hair Ink

Makeup by Sarah L.

M. Andrew's Sartorial Luxury Collection

Float

Sabina's Coffee House

Versona-North Star & Huebner

SayTown Snappers

Clothesline Cleaners

Carmen Sanchez-hair

Artraia Martin-hair

Expressions Dance Company

Q Monet-makeup